List of Notes and Resources
John Oscar Sackville Family Page
---
Notes on John Oscar Sackville
---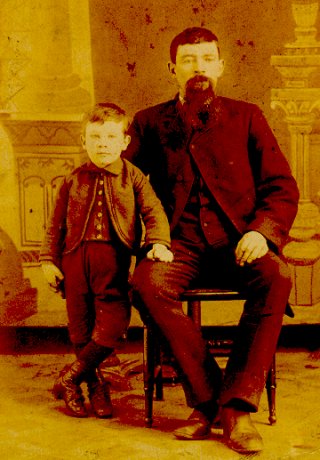 John Oscar Sackville and his son, Ray Seymour.
---
From the Oelwein Register, July 1902.
Suddenly Called to Rest
---
J. O. Sackville, well-known in this vicinity, died suddenly at his home five miles northeast of the city Thursday evening. He had been in the city during the afternoon, and appeared in his usual health. He returned home, attended to his duties, and retired at 8:30. In a few minutes he had a hemorrhage, got up and reclined on a couch. He rapidly grew worse and died in a few minutes. The funeral occurred Sunday forenoon at 10 o'clock, and was attended by a large concourse of friends and neighbors. The services were conducted by Rev. J. M. Wilson. Interment was in the Oelwein cemetery. Mr. Sackville was born in Canada 57 years ago, and came to Iowa over thirty years ago. He has resided on the farm where he died for 28 years. In 1874 he was united in marriage to Miss Alice Day, and to them were born three children, Maude, the wife of Richard Smith, Ray and Fern. These children with the wife and mother are left to mourn the death of a kind husband and father. Mr. Sackville was universally esteemed as an honorable man, and numbered his friends by the score. His sudden taking off comes as a shock to relatives and friends. He had returned but a few days previous to his death from a visit to his uncle, Henry Holroyd, and a cousin, Lincoln Holroyd at Genoa, Ill., and they were in attendance at the funeral.


---
List of Notes and Resources
John Oscar Sackville Family Page
Top of Page