List of Notes and Resources
Maude Sackville Smith Family Page
---
Notes on Maude Sackville Smith
---
From the Oelwein Daily Register, November 1901.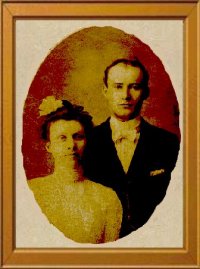 Smith-Sackville -- Married last Wednesday evening at the home of the bride near this city Richard H. Smith to Miss Maude E. Sackville, Rev. Dilman Smith officiating. These young people are well and favorably known in Oelwein, both having been reared from childhood in this vicinity. The groom is a member of the firm of Smith Bros. carrying on an extensive grocery business, and is one of the leading men of the city. The bride has been a popular employee in the dry goods store of Wood Sisters. They commenced housekeeping at once in Mr. Smith's beautiful residence on North Frederick street, that he had prepared for his bride.
---
From the Oelwein Daily Register, March 1941.



MRS. RICHARD SMITH, SR. PASSED AWAY WEDNESDAY

---------------------------------------

Mrs. Richard H. Smith passed away last night at 5:40 at her home at 317 N. Frederick Avenue. She was 62 years of age. Besides her husband she is survived by two daughters, Miss Dorothy Smith of Waterloo; Mrs. Delpha Roepke of this city and one son, Richard Smith, Jr., of Oelwein. Funeral services will be held Friday afternoon at 2:30 o'clock from the Hintz Funeral Home with Rev. F. C. Witzigman, Pastor of the Methodist Church, officiating. Interment will be at Woodlawn cemetery. The body will lie in state at the Hintz Funeral Home.

---
From the Oelwein Daily Register, March 1941.



Obituary


Maude Eliza Smith, nee Sackville, and the eldest of three children in the family of John Oscar and Alice Day Sackville, began life's sojourn on a farm five miles northeast of Oelwein, Iowa on August 18,1878, and entered into Celestial Rest at her home on North Frederick, in Oelwein, Iowa on March 12, 1941, aged 62 years, 6 months and 24 days. She attended the rural schools and grew to womanhood on the homestead farm, where she was united in marriage to Mr. Richard H. Smith on October 30, 1901. To this union three children were born. Following their marriage Mr. and Mrs. Smith made their home on North Frederick, adjacent to their present home. In 1909 the built the house where they have lived ever since. This permanence of residence was symbolical of the steadiness and stability of her quiet life. Mrs. Smith was taken ill just one year ago yesterday, March 13, 1940 and after a heroic battle for health throughout the year, slipped away to be with God as the evening shadows began to lengthen. She is survived by her husband, Richard H. Smith, by two daughters and a son, Miss Dorothy Smith, teaching in Waterloo, Iowa, Mrs. Delpha Roepke who being at home gave much care to her mother, and Richard Smith, Jr., Teller at the First National Bank of Oelwein. She is also survived by one brother and one sister, Mr. Ray Sackville of Oelwein and Mrs. George Balluff of Clarion, Iowa. Mrs. Smith became a Christian early in life and in November, 1901, during the pastorate of the Rev. Dilman Smith, united by letter with Grace Methodist church. She was active in the Ladies Aid Society, and especially in the Unit in which she lived. She attended the Sunday School and was a member of the Perseverance Class. The work of the W. C. T. U. claimed her interest and she assisted in this important work. She rendered most valuable service for four years as editor of the Church Bulletin. Mrs. Smith enjoyed music and drew rich comfort from it varied messages. She was a devoted home-maker. Here she found her chief satisfaction and gave to her home a strength and comfort that was most enriching. She was very fond of children and all who come to know her became greatly attached to her. Funeral services were held at the Hintz Funeral Home on Friday, March 14 at 2:30 p.m. the pastor Rev. F. C. Witzigman officiating. Interment was made in the family lot in Woodlawn cemetery.

---
List of Notes and Resources
Maude Sackville Smith Family Page
Top of Page